Spread Calm with Sensate's Wholesale Program
Start sharing the revolutionary, science-backed stress relief solution featured in The Times, Psychology Today, Men's Journal, and Women's Health!

Infrasonic Resonance
Sensate uses sound and vibration designed to reduce stress and promote relaxation.
Relieve your Stress
Our product is a non-invasive and drug free way to relieve stress.
Technology for Better Health
Our technology is based on scientific research – designed to relieve your body and mind by soothing the vagus nerve, our body's command center.
Whether you're a single or multi-location business, Sensate welcomes practitioners and partners who are passionate about health and wellness and providing solutions to their patients and clients.
Our Program Perks
10% for you, 10% discount for your community
Offer solutions to your clients that work!
Purchase products at discount.
On-site marketing materials, educational webinars with the Sensate team, on-call support wholesale team.
Joining our Wholesale Program is hassle-free!
Click on THIS link to apply for a Wholesale Program.
Within seven days, we will review and approve your application.
Within seven days we will review and approve your application.
Once approved we will provide you with steps to place an order, marketing materials and a partner liaison to help support your reseller efforts
Join our Wholesale Program today and start sharing the benefits of Sensate with your audience.
Case Studies of Success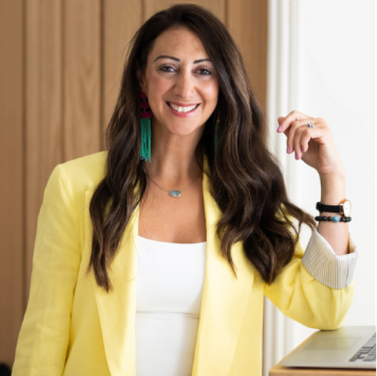 Lauren Vaknine, holistic health & life coach
The Sensate has been an invaluable tool in my daily wellness toolkit, both as a wellness educator and also for myself and my family. I take it everywhere and use it whenever I feel elevated anxiety or cortisol, and I use it probably 5 nights out of 7 in bed to just completely calm my autonomic nervous system and give me optimized sleep. Every time I mention it on my podcast or to clients or friends, more people buy it because they see the value in it and it really works. We live stressful lives and we really need something that is small and easy to use to help us reduce our stress levels. As a company, Sensate have also been wonderful to work with and build a partnership with, which has been wonderful as not all affiliate partnerships are like that and I find that the easier it is to work with the company, the deeper the relationships. All in all, Sensate has been invaluable for me and my family!
Brand Support
As an affiliate, you willl have access to a library of materials we will provide, to help you promote Sensate.
Subscribe to Newsletter
Join us today, and you'll be on the leading edge of a lifestyle revolution like none other.
Join us today, and you'll be on the leading edge of a lifestyle revolution like none other.
FAQs
What is the Sensate affiliate program?
---
Our Affiliate Program offers you a personalized discount for your clients, customers, or friends and family to use on our website that will give them 10% off a device. Additionally, you will receive a 10% commission on any products bought with your discount code.
How do I become an affiliate?
---
How do I track my sales and commissions as an affiliate?
---
How do I get paid as an affiliate?
---
As an affiliate you will be paid preferentially by bank transfer if you have a UK bank account, or PayPal for any other region.
When do I get paid as an affiliate?
---
As an affiliate, you will be paid around the 15th of every month, taking into consideration weekends and bank holidays.
Where do I input my payment details?
---
What payment details should I input?
---
If you are a UK bank account holder, please input this information into your affiliate profile. However, if you are not from the UK and do not hold a UK bank account, please input your PayPal information.
Can I be paid in Sensate devices?
---
Yes, when you log into your affiliate profile you can select the 'store credit' payment option under 'Settings > Payment', which will allow you to receive commission payments as coupons that you can use in our store to buy Sensate products.
How do I login to my affiliate profile?
---